ERP Solutions
Avani's strong business knowledge across various functional areas provide our clients with custom
enterprise solutions using industry-leading technologies in SAP, Oracle and Microsoft.
Implementation

Employee central HRIS
Performance & Goal Management
Succession
Recruiting Management & Marketing
Onboarding
Compensation & Variable Pay
Dashboards, Reporting & Planning

Upgrade
Support services
HR business Partner services
Integration services

Data integration & SSO
SuccessFactors with ADP
SuccessFactors with workforce
SuccessFactors with SAP HCM
SuccessFactors with CEIPAL
Avani Services
Consulting
Avani deploys its technical staff to customer sites to provide technical solutions
Resources will be billed on a per hour cost basis
Resources will provide technical, architectural, design, testing, and training services to customers
End-to-end solution deployment

Avani takes over the entire project from requirements to design, development, testing, and deployment, end-to-end implementation
Avani negotiates project billing based on quality and outcome of the expected results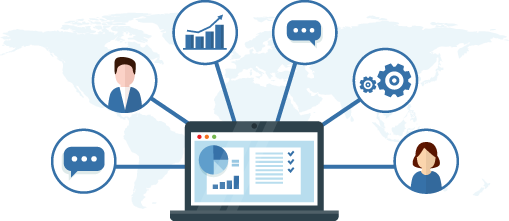 End-to-End solution deployment

Concept building
Consulting & Design
Deployment & Support
Development – Multi-device platforms

24×7 support & maintenance
SAP Global Consulting
SAP Enterprise Mobile Solutions
End-to-End solution deployment

Concept Builds
New Deployments
Upgrades

24×7 support & maintenance
SAP Global Consulting
SAP Enterprise Mobile Solutions
Maintenance & Support

SAP support and maintenance will be based on number of users to number of tickets per system
Provide 24×7 for all production or critical systems
Extended hours and weekend support for all of our support and maintenance activities
Competency
Avani has over 20 Business Intelligence, Business Warehouse, and Business Objects experts working on various customer projects.
Avani has recently completed a large scale BI implementation for a retail customer in US and Middle East and many other consulting assignments partnered with prime vendors who are large outsourcing vendors in US.
Avani has built a strong analytics team who work on Business Objects and other enterprise analytics tools help customers predict the future business trends
We offer complete end-to-end data warehousing and business intelligence services, including on-site business / technical needs assessment, development and integration services and partial or total outsourcing of application implementation and maintenance.
BI Services
SAP BI is one of the most powerful and extensive OLAP database solutions on the market.
Avani took the performance management strategy to the next level by actuating and profiling the entire business via SAP BI to our leading clients. With this being said, now the core business team making strategic decision can map the entire business against the planned strategy and track it against the benchmarks set.
We have enabled integrated reporting across all the domains be it Sales, Finance, Inventory, HR or CRM and catered to the reporting needs of users at different levels of organization with proper security implemented alongside to prevent data leakage and pilfering.
Avani has implemented BI solutions to customers as follows:
Implementation
End to End BI Implementations & Support
BI Up-gradations (Technical and Functional)
Business Objects Reporting
Business planning and Consolidation
Data Management
Re-design Projects
Integration with other OLAP Tools
Avani BI R&D team helping few of our customers in implementing BI solutions in the following latest technologies

SAP Business Warehouse (BW) 7.30
SAP Business Objects BI 4.0
BWA (BW Accelerator)
Mobile BI
Integration with SAP HANA
Dash Boarding
Competency
Avani SAP CRM competency in Marketing, Sales, and Services has many customer accolades integrating legacy systems with SAP CRM. Avani has an expertise in middleware configuration, initial data download, delta load, and delta upload.
Avani has implemented over 5 global CRM implementations and completed numerous consulting assignments to help customers achieve highest rate of their investment, and improved its customer retention and marketing efforts dramatically.
Avani has delivered CRM global implementations using its global software development centers from US, India, and African continents.
Marketing
Avani customized SAP CRM marketing solutions to deliver great benefits to customers

Create cohesive marketing sources for business goals
Understand return on market spending
Improve marketing processes to grow attention and control
Establish customer desire through a specific marketing message
Define and maintain valuable customers with loyalty programs
Enable a prime platform with better marketing processes
Sales
Avani customized SAP CRM retail solutions to deliver great benefits to customers

Increase profits
Increase productivity of sales team
Deliver value for each customer experience
Create cohesiveness in sales solutions
Develop and enhance loyalty with personal customer care in all areas
Services
Avani customized SAP CRM service solutions to deliver great benefits to customers in

Instant data for quick solutions
Equipped staff empowered to provide excellent customer service
Increased field utilization through defined sources and accessible data
Increase profits by suggesting other services and products based on customer wants and needs
Minimize returns by helping customers find solutions and by ending product issues
Offer a reliable connection in all communication areas, including email, text messaging, voice, and web contacts.
Avani has an expertise in integrating SAP CRM with ERP and legacy systems. We have an expertise in the following integration activities

Customer data integration
Integration of CRM with other ERP systems
Implementation interfaces using middleware
Integration with wireless hand held and CTI devices
Competency
Certified Microsoft Technology Partner.
Custom application design using .Net platform.
SharePoint enterprise portal Design & Development.
Microsoft enterprise solutions and Reporting.
Microsoft cloud based services.
Expertise
Technical: .Net, SharePoint, Cloud Services, CRM, Portals, SSIS, SSRS, SQL Server
Services
End-to-End solution deployment

Concept Builds
New Deployments
Upgrades

24×7 support & maintenance
Microsoft Global Consulting
Custom Application development
Sharepoint Application development
Migration to Microsoft technologies
Microsoft Dynamics
Microsoft Reporting Services
Microsoft Enterprise cloud services
Industries
Automobile
Banking & Finance
Pharma
Health Care
Hi-Tech
Manufacturing
Competency
Oracle Gold Partner
Certified Enterprise Oracle team
Deployed Oracle solutions in US & India
Oracle Database, HCM Solutions, and Analytics
Oracle Software & Hardware Resellers
Expertise
Technical: Oracle Database, Java/J2EE, Data Warehousing, Database Security, Analytcis, Oracle Webcenter, Content Management
Functional: Fusion HCM, Peoplesoft
Services
End-to-End solution deployment

Concept Builds
New Deployments
Upgrades

24×7 support & maintenance
Oracle Global Consulting
Oracle Enterprise Mobile Solutions

Fusion HCM
Database Architecture, Design & Implementation
Analytics
Oracle Cloud Solutions
Industries
Banking
Health Care
Finance
Pharma
Hi-Tech
Government Agencies