Accolades for our commitment to excellence

INC 500
From a small set up in 2008 to a fully fledged thriving IT firm currently, Avani Technology Solutions has certainly made its presence felt in its respective domain. So much so that it is has been honoured by being included under the club of Inc. 500 fastest growing private companies of America.

SBA Recognised
Nothing represents the transformation from a small start up to a big progressive business better than a recognition and support from the government of United States of America itself! Avani Technology Solutions is a SBA 8(A) certified firm which entitles us to render our services to the federal as well as the state governments.

CIO Review
With a growth rate of 1,916% over a span of 3 years, Avani Technology Solutions has time and again proved itself as a force to be reckoned with. CIO Review's special mention of Avani Technology Solutions as one of the '20 Most Promising Enterprise Mobility Companies' is also one notable feather in our cap of accomplishments.
Rochester Top 100
Avani Technology Solutions got shortlisted to be included under the ever elusive and exclusive club of Rochester Top 100 companies as of 18th of August, 2014. It just goes to act as a testament of our company's extraordinary growth and accomplishments in a relative short span on time. With the kind of continuous growth that we have been consistently projecting over the past 7 years, one can't help but to stop and take notice.

Product of the year 2014 by Silicon India
Avani Technology Solutions at the forefront of it all has managed to bring in a breath of fresh air in the industry of pricy complex HCM solutions and have delivered products so economical that even small businesses can afford them. Avani has created a niche for itself by providing agile, user friendly and cost effective innovative HCM Solutions which led to us being awarded the product of the year 2014 by Silicon India 100.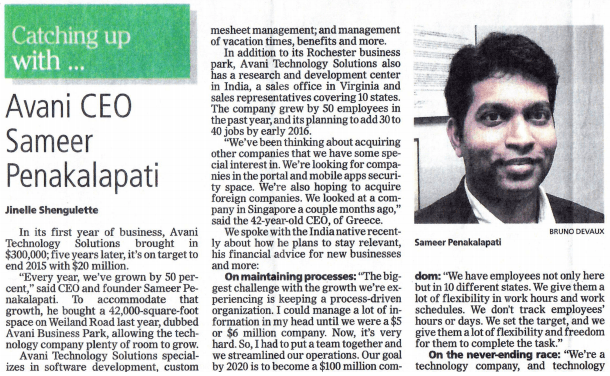 Catching Up With...
It is the first year of business, Avani Technology Solutions brought in $300,000; five year later, it's on target to end 2015 with $20 million. "Every year we've grown by 50 percent ," said CEO and founder Sameer Penakalapati. To accommodate that growth, he bought a 42,000-square-foot space on Weiland Road last year, dubbed Avani Business Park, allowing the technology company plenty of room to grow.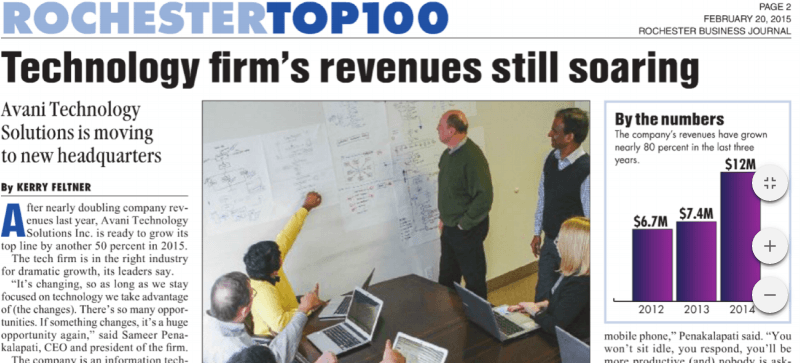 Rochester Top 100: Technology firm's revenues still soaring
After nearly doubling company revenues last year, Avani Technology Solutions Inc. is ready to grow its top line by another 50 percent in 2015. The tech firm is in the right industry for dramatic growth, its leaders say. "It's changing, so as long as we stay focused on technology we take advantage of (the changes). There's so many opportunities.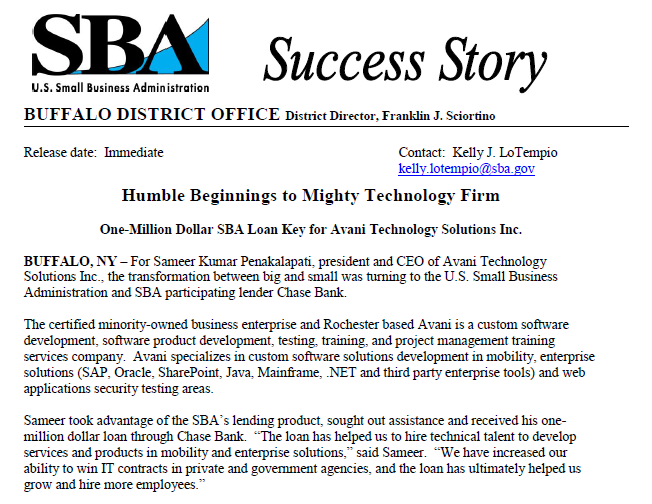 Humble Beginnings to Mighty Technology Firm
For Sameer Kumar Penakalapati, president and CEO of Avani Technology Solutions Inc., the transformation between big and small was turning to the U.S. Small Business Administration and SBA participating lender Chase Bank. The certified minority-owned business enterprise and Rochester based Avani is a custom software development, software product development, testing, training, and project management training services.